amaue.weebly.com // maue@nau.edu
After completing my Bachelor's degree in Geophysics & Planetary Science at Boston University, I pushed onward to the PhD program in Geology at University of Tennessee Knoxville with Prof. Devon Burr. In 2019, we moved to the expanding Department of Astronomy and Planetary Science at Northern Arizona University, where I am finishing the last few years of my PhD.
I am primarily interested in planetary geomorphology and sedimentology across the solar system and especially how remote sensing with tools like radar can characterize very fine-scale properties of a planet's surface.
My dissertation focuses around Saturn's icy moon, Titan. Since it is the only planetary body beyond Earth where we can study potentially extant river systems (albeit under very different conditions), Titan exists as an interesting alternative for testing our understanding of sedimentological processes. In particular, I study the transport and weathering of icy cobbles down the length of fluvial channels observed on Titan. As on Earth, grain properties would be expected to change downstream—something which I am studying primarily through analysis of radar images provided by NASA's recently completed Cassini-Huygens mission. An experimental study is being performed in parallel by our collaborator at Colgate University, Joseph Levy, which will attempt to recreate the weathering we see on Titan in a lab here on Earth.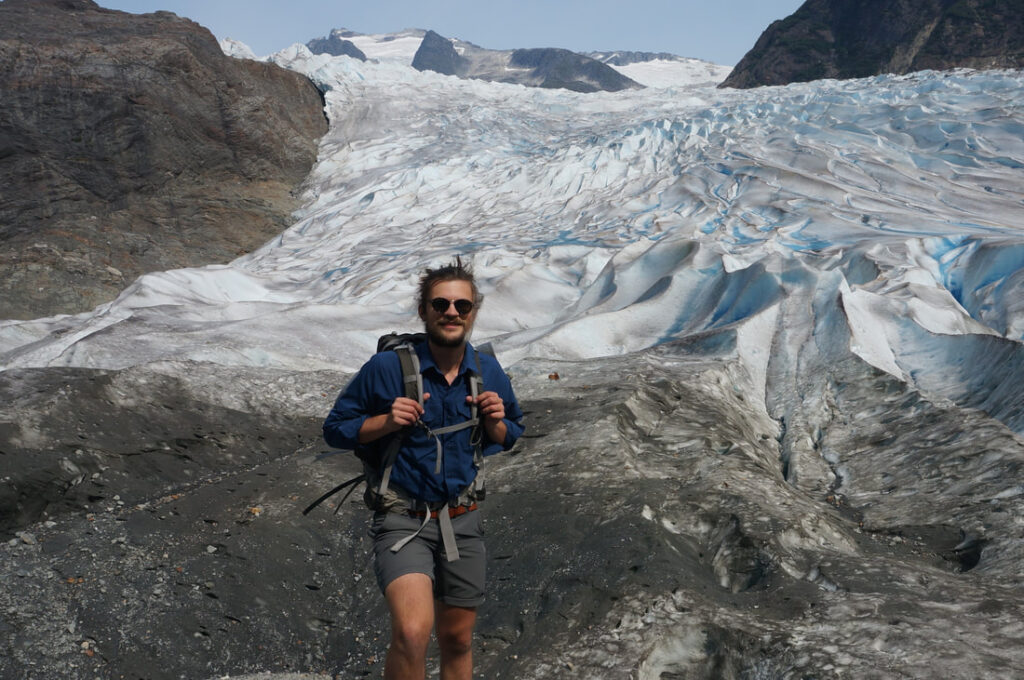 Publications:
Maue, A.D., J.S. Levy, D.M. Burr, P.R. Matulka, and E. Nathan (2022). Rapid rounding of icy clasts during simulated fluvial transport in the Titan Tumbler. Icarus, 375, 114831. https://doi.org/10.1016/j.icarus.2021.114831.
Maue, A.D., J.S. Levy, D.M. Burr, P.R. Matulka, and E. Nathan (2022). Sieved mass and shape data from simulated fluvial transport of icy clasts in the Titan Tumbler. Data in Brief, 40, 107815. https://doi.org/10.1016/j.dib.2022.107815.
Holstein-Rathlou, C., A. Maue, P. Withers (2016). Atmospheric studies from the Mars Science Laboratory Entry, Descent and Landing atmospheric structure reconstruction. Planetary and Space Science, 120, 15–23. http://dx.doi.org/10.1016/j.pss.2015.10.015.
Recent conference proceedings:
Maue, A.D., D.M. Burr, M.J. Jarquin (2021). Disentangling sediment signals on alluvial fans in synthetic aperture radar. Poster presentation, at GSA Connects, Abstract 221-6.
Maue, A.D., C. Fedo (2020). Preliminary Experiments Regarding the Effect of Frozen Sediment on Fluvial Morphology. 51st Lunar and Planetary Science Conference, Abstract 2206.
Maue, A.D., D.M. Burr, J.S. Levy, P.R. Matulka (2019). Connecting field, lab, and mission data toward an understanding of fluvial processes on Titan. Invited oral presentation, at Geological Society of America Annual Meeting, Abstract 67-4.
Patthoff, D.A., A.D. Maue, R.T. Pappalardo, G.C. Collins, G.W. Patterson, M.J. Kinczyk (2019). Ridges of Enceladus's leading and trailing hemispheres. Planetary Geologic Mappers Meeting, Abstract 7026.
Matulka, P.R., J.S. Levy, D.M. Burr, A.D. Maue (2019). Rounding and comminution rates of ice clasts using the Titan Tumbler: Fluctuating roundness and stepped mass loss. 50th Lunar and Planetary Science Conference, Abstract 1490.
More on Google Scholar